StarCycle is a family of boutique fitness centers, from the East coast to the West coast and in between. While the overall experience of riding at StarCycle is consistent from studio to studio, each of our studios has its own unique vibe.
In this post, we're shining a spotlight on StarCycle's Vancouver, Washington location. We'll share more about this incredible studio and the women behind it below.
Studio at a Glance
Who: Erica and Eryn
What: StarCycle Vancouver
When: May 2015
Where: 3215 SE 192nd Ave., #100, Vancouver, WA 98683
How It Started
Studio owners Erica and Eryn opened the Vancouver, Washington StarCycle studio on May 20, 2015.
Erica and Eryn took their first StarCycle rides in 2013 and 2014, respectively, and instantly fell in love. They loved the hype energy, dark room, and excitement pulsing through the studio and knew they wanted to return.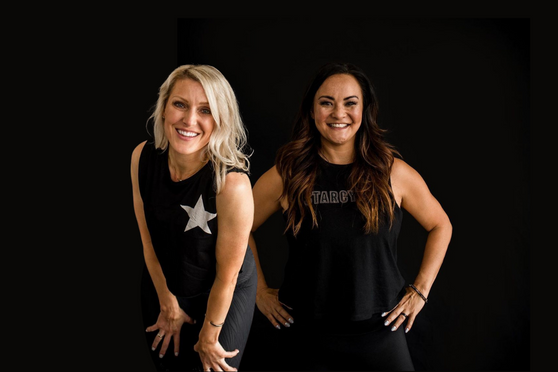 Erica and Eryn, the Owners of StarCycle Vancouver
Erica and Eryn are no strangers to the health and fitness world. Both women have backgrounds in the athletic apparel industry, and Eryn also taught barre classes before coming to StarCycle.
Eryn chose to franchise with StarCycle because she loved our innovative approach to physical fitness and wanted to share the sense of empowerment it gave her with others. Eryn was also excited to give back to their community by hosting charity rides.
Erica added that she simply loves bringing a kickass workout to their community. Both Erica and Eryn agree that the thing they were the most excited about when opening a StarCycle studio of their own was cultivating a great vibe at their studio and a supportive indoor cycling community both on and off the bike.
How It's Going
Today, StarCycle Vancouver has a tenured team of incredible instructors that support their community and one another.
Erica and Eryn report that they have become more self-confident since starting their journey as StarCycle studio owners, and that they enjoy passing that self-confidence on to their staff and riders. Their favorite thing about StarCycle is that it offers everybody and every body the opportunity to get support, grow, and have fun.
Erica and Eryn's favorite cycling song right now is "Rage" by Hyper Crush.
When they're not at the studio, Erica and Eryn love attending their kids' sporting events, cooking, going to concerts, and traveling.
Visit StarCycle Vancouver
BOOK YOUR BIKE at StarCycle Vancouver today, then head over to 3215 SE 192nd Ave., #100, Vancouver, WA 98683.
What to Bring
Water bottle
Athletic clothing (Spandex leggings or shorts are ideal)
Socks
We have cycling shoes available to rent in-studio, but if you prefer to bring your own pair, they should be Look Delta-compatible!
Follow StarCycle Vancouver
To learn more about StarCycle Vancouver, follow them on Instagram and Facebook!